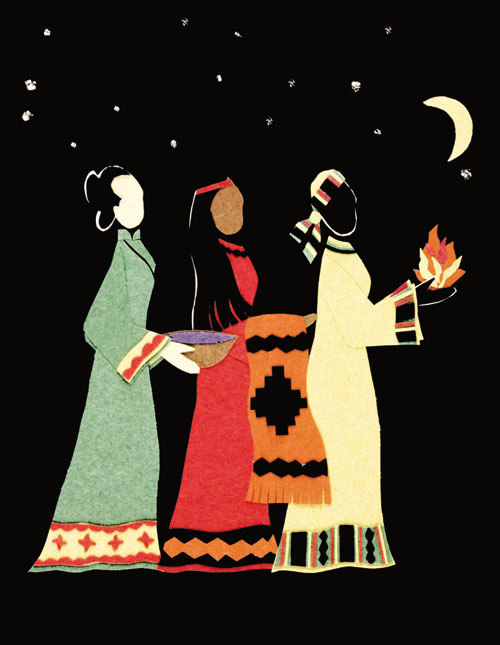 Image: Wise Women Also Came © Jan Richardson
In some parts of the world, Epiphany (January 6, which brings the Christmas season to a close) is celebrated as Women's Christmas. Originating in Ireland, where it is known as Nollaig na mBan, Women's Christmas began as a day when the women, who often carried the domestic responsibilities all year, took Epiphany as an occasion to enjoy a break and celebrate together at the end of the holidays.
Whether your domestic duties are many or few, Women's Christmas is a good time to pause and take a break from whatever has kept you busy and hurried in the past weeks or months. As the Christmas season comes to a close, this is an occasion both to celebrate with friends and also to spend time in reflection before diving into the responsibilities of this new year.
It's become something of a tradition for me to create a retreat that you can use for Women's Christmas—or anytime you're in need of a space of reflection. This year's retreat is titled "The Shimmering Hours," and our theme for this one is time. Inspired in part by my own questions about time (How will I enter time? What do I do with my time? In the press of each day, how will I make choices that allow me to feel some freedom about time—that it is spacious, that I will have enough?), the retreat offers an invitation for you to engage your own questions about how you move through your days.
The retreat is very flexible, easily adaptable to your own purposes. You can do the retreat anytime you wish, by yourself or with friends near or far. It includes an introduction with some thoughts about how you might use these reflections.
Clicking the link below will take you to a page on this Sanctuary of Women site where you can download the retreat as a PDF file. There's no cost; think of it as my Women's Christmas gift to you! You're also welcome to make a donation in support of the retreat; donations will be shared with the A21 Campaign (thea21campaign.org), which is devoted to ending human trafficking and providing sanctuary and healing for those rescued from slavery.
You are welcome to make copies of the retreat to share with friends. I'd be delighted for you to spread the word about the retreat by sharing this blog post; you can use any of the social media icons at the bottom of this post or simply forward the link to others.
I've also written a new Women's Christmas blessing for you. As we celebrate the day and enter into the year ahead, may you have time enough, and may Christ our Light meet you in every moment. Merry Women's Christmas!
The Shimmering Hours
A Blessing for Women's Christmas
There is so much
I want to say,
as if the saying
could prepare you
for this path,
as if there were anything
I could offer
that would make your way
less circuitous,
more smooth.
Once you step out
you will see for yourself
how nothing could have
made you ready for this road
that will take you
from what you know now
to what you cannot perceive
except, perhaps,
in your dreaming
or as it gives a glimpse
in prayer.
But I can tell you
this journey is not
about miles.
It is not about how far
you can walk
or how fast.
It is about what you will do
with this moment, this star
that blazes in your sky
though no one else
might see.
So open your heart
to these shimmering hours
by which your path
is made.
Open your eyes
to the light that shines
on what you will need
to see.
Open your hands
to those who go with you,
those seen
and those known only
by their blessing, their benediction
of the road that is
your own.
[The Wise Women Also Came image is © Jan L. Richardson from the book Night Visions: Searching the Shadows of Advent and Christmas. To use this image, please visit this page at Jan Richardson Images.]