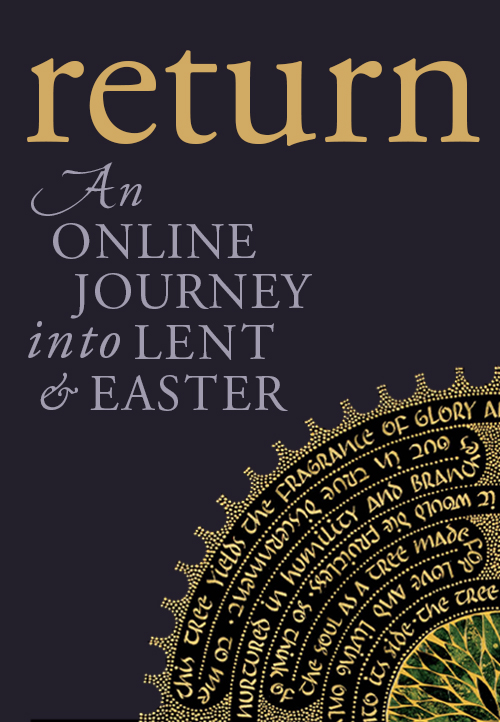 Advent and Christmas are not so very far behind us, and already we're standing at the edge of Lent! As Ash Wednesday draws near, I want to let you know that Gary and I will be offering an online retreat during Lent. We so enjoyed traveling with many of you during our online Advent retreat, and it was wonderful also to hear from lots of you who enjoyed the Women's Christmas retreat. We would love to journey with you during the coming season!
If you haven't already read about the retreat, here's a bit of info:
RETURN: An Online Journey into Lent & Easter
February 13 – March 31
This is a Lenten retreat for people who don't have time for a Lenten retreat (and for those who do!). You do not have to show up at a particular place or time. You can do this retreat from anywhere you are, and you're welcome to engage the retreat as much or as little as you wish.
Travel toward Easter in the company of folks who want to move through this season with mindfulness and grace. This online retreat is not about adding one more thing to your schedule. It is about helping you find spaces for reflection that draw you deep into the mysteries and gifts of this season. This retreat intertwines reflection, art, music, and community, offering a space of elegant simplicity as you journey through Lent.
If you're part of a group that would like to take the retreat together, we offer group discounts. Whether you're part of a group that meets together in one place, such as a Bible study or book group, or a network of friends or colleagues stretched across the country or around the world, this retreat is a great way to travel through the season together.
If you're hungry for a simple way to move deeply into this season, this retreat is for you. For more info and registration, visit Online Lenten Retreat or click the retreat logo above. That page also has a link to a FAQ page with further details. If you have any questions, or if you have any concerns about things that you think might hinder you from participating in the retreat, please do be sure to visit these pages. You're also welcome to be in touch with me directly.
Deep blessings and gratitude to you as the new season begins.