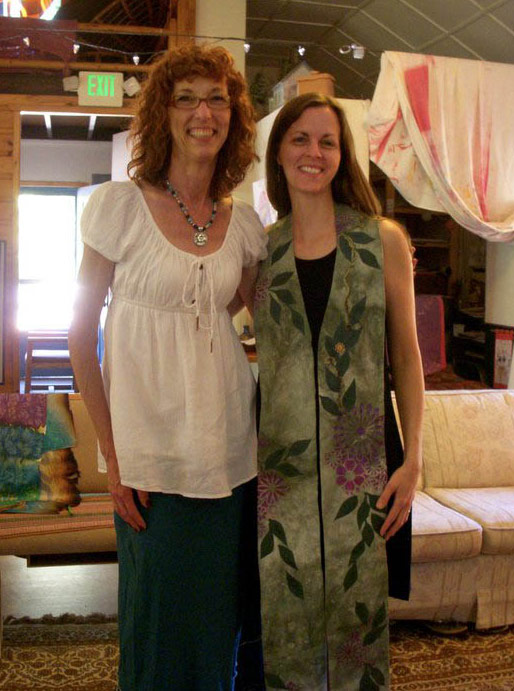 On our last evening of the Liturgical Arts Week at the Grünewald Guild this summer, we had a feast alongside the beautiful Guild garden. Dreamed up by my friend and fellow faculty member Laurie Clark (in the picture above), the feast was a wondrous occasion that wove together the strands of this year's "Garden, Table, Story" theme that we had been exploring and savoring all week. I love how Laurie thinks—how with her artful spirit, deep imagination, sense of history, and remarkable eye for detail, she brings together the pieces to create something beautiful that evokes the presence of the sacred. (For a glimpse of her work, visit Laurie's blog.) On the evening of the feast, Laurie, along with a team of helpers, created a whole experience that was a work of art.
We processed to the garden as a community carrying elements of the feast and took our places at the long tables that stretched down the length of the garden. As we sat, we found that Laurie had strewn small, carefully cut leaves along the tables. She invited us to write the name of someone we wished was at the feast. The leaves lingered throughout the festive meal, evoking memories of loved ones who had shared other tables with us.
The next morning, at our closing worship service (always a highlight of the Guild week, as folks share what they have created during their time there), Laurie presented me with a gift. During the night, she had taken one of the tablecloths (which she had made especially for the feast) and turned it into a stunning stole. Worked into the stole are all the leaves from the feast, bearing the names of those we remembered at the table. You can get a sense from the picture of how thrilled I am to have received such an astounding, exquisite gift.
I led our celebration of Communion during the service. Garbed in the stole—the feast stole, the table stole, the stole of memory and story—I spoke of how the table, and the Communion table especially, reminds us that when we eat together, we celebrate not only with those who are physically present with us. We celebrate too with all those around the world who gather at their own tables, and we celebrate with those no longer upon this earth but who continue to be part of our story and who linger close when we come to the table.
Today, November 2, is the Feast of All Souls. Along with the Feast of All Saints (or All Hallows) on November 1, this is a time for remembering those who have gone before. These days have roots in an ancient Celtic festival, during which it was believed that the veil between worlds became permeable. The Celtic folk have described such a time or space as a thin place: a space where past and present and future mingle, and heaven and earth meet.
On this day, I am remembering how a table can become a thin place: how when we gather in that space of memory and story, that space that touches all our senses and where we acknowledge our hungering, it opens up doorways to the past, and those who once shared our table somehow do so again.
On this Feast of All Souls, who is lingering close in your memories? What stories come to the surface this day? Where do you find those thin places where past, present, and future intertwine, and heaven and earth meet?
In these days, may a thin place open to you: a space of memory and hope, a realm where dream and possibility meet, a place where those who love you make their presence known and provide sustenance for the way ahead. Blessings.
P.S. I want to let you know I have a brand-new blog! It's called Devotion Café, and I launched it this week to coincide with this trinity of days of Halloween-All Saints-All Souls, a time of year that I love. I'd be delighted for you to stop by and see my first post, On the Eve of All Hallows. For another reflection for these days, please see Inspired: On the Feast of All Saints at my blog The Painted Prayerbook.