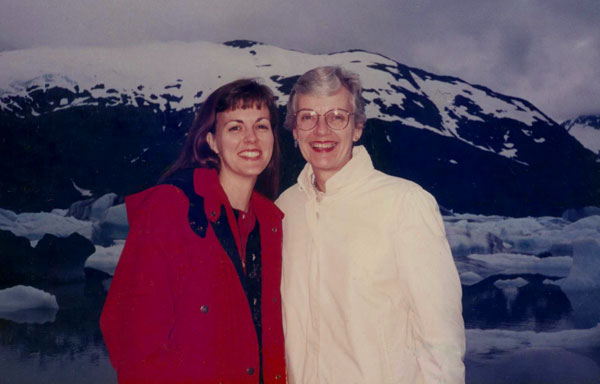 With Mom at Portage Glacier, Alaska, 1994
Right after my parents married—Mom was nineteen, Dad was twenty-two—they moved to Alaska, where Dad was newly stationed at Elmendorf Air Force Base in Anchorage. They would spend almost three years there, nearly a continent away from Florida, where they had both grown up and where their families lived. Travel being rather different in those days, Mom and Dad didn't make any trips back home that entire time. They saw their parents just once, when Gramps and Grandmother and Mommaw and Granddaddy flew out together for a visit. There's a photo of my four grandparents coming across the tarmac of the Anchorage airport, propelling themselves toward the man who holds the camera, the woman who stands beside him. You can see it in their faces, what it means to be walking toward their children whom they have not laid eyes on in more than a year.
That image is just one of the many (many, many) scenes of Alaska that wove through my growing-up years. My brother and sister and I sometimes gave Mom and Dad a hard time about what seemed to us the perpetual slide shows documenting their Alaska sojourn, but half a century later, the images are treasures. The pictures left their imprint on me, bringing to life a landscape that, though far distant from my home, planted itself in my imagination as I grew up in the near-tropical terrain of Florida.
Nearly two decades ago, I had occasion to travel to Anchorage with a group from the church I was serving. Twenty-four hours before our departure, a turn of events resulted in Mom's joining us for the trip. Further turns enabled the two of us to remain in Alaska for an extra week, staying in a house on the outskirts of Anchorage that gave us a stunning view down into the city and the mountain range beyond.
It was a remarkable experience to journey with Mom into the landscape of this place that she, along with Dad, had first impressed upon my imagination. We visited some of the places in the geography where she and Dad had begun their marriage, stood (and took pictures) in some of the same spots where I had seen images of the two of them. The photo above was taken at Portage Glacier, which I remembered well from the slide shows of my childhood.
When I think of what endures in my life—what has shaped me, what grounds me and helps me know who I am—I think of the landscape my parents passed along to me. Not just the physical layout of the part of Florida that has been home to us, but also the landscape that is created in the telling of stories, and the making of new ones.
Our mothers are our first landscape, our original terrain, creating us and sheltering us in the space of their own body. When we have mothers who know, or learn along the way, how to keep creating the landscape for us and with us—when they can fashion a terrain that provides both sanctuary and the freedom to find the contours of our own life—that is gift indeed.
On this Mother's Day, I celebrate and give thanks for my own mother—Judy Scott Richardson—and all the mothers who have been able to provide this tremendous gift. And I offer prayers for those women who, owing to the gaps and fissures in their own landscape, have left pain and emptiness in the space where a mother should have been. For those who choose to enter into the empty, motherless places—the "othermothers" who come in the form of teachers, grandmothers, aunts, sisters, neighbors, friends—bless you and thank you for your mothering hearts.
For all the mothers—mothers by blood, mothers by heart—a blessing to you on this Mother's Day:
Blessing the Mothers
Who are our
first sanctuary.
Who fashion
a space of blessing
with their own being:
with the belly
the bone and
the blood
or,
if not with these,
then with the
durable heart
that offers itself
to break
and grow wide,
to gather itself
around another
as refuge,
as home.
Who lean into
the wonder and terror
of loving what
they can hold
but cannot contain.
Who remain
in some part of themselves
always awake,
a corner of consciousness
keeping perpetual vigil.
Who know
that the story
is what endures
is what binds us
is what runs deeper
even than blood
and so they spin them
in celebration
of what abides
and benediction
on what remains:
a simple gladness
that latches onto us
and graces us
on our way.