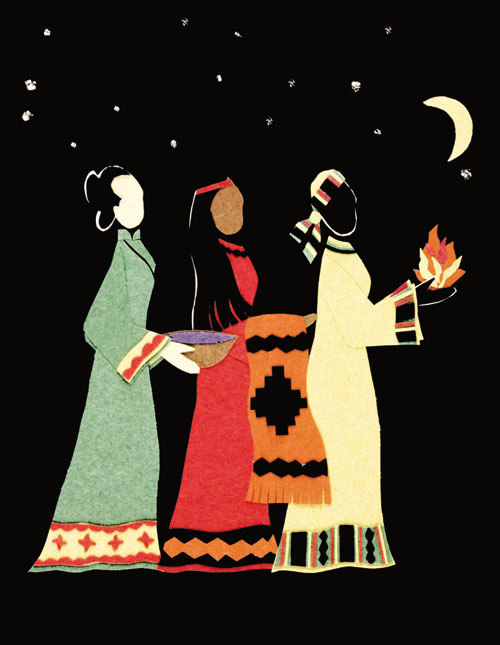 Wise Women Also Came © Jan L. Richardson
In some parts of the world, Epiphany (January 6, which brings the Christmas season to a close) is celebrated as "Women's Christmas." Originating in Ireland, where it is known as Nollaig na mBan, Women's Christmas began as a day when the women, who often carried the domestic responsibilities all year, took Epiphany Day as an occasion to enjoy a break and celebrate together at the end of the holidays. (For more about Women's Christmas, visit this article published in The Irish Times: Go on, have a cuppa tea on Nollaig na Mban.)
Whether your domestic commitments are many or few, Women's Christmas offers an opportunity to pause and step back from whatever has kept you busy and hurried in the past weeks or months. As the Christmas season comes to a close, this is an occasion both to celebrate with friends and also to spend time in reflection before diving into the responsibilities of this new year.
I'm looking forward to spending some time with friends on Epiphany night and also savoring some quiet time as we enter the year. How might you celebrate Women's Christmas this year? As you contemplate the coming months, what do you need for the path ahead?
To support you, I've created a mini-retreat especially for Women's Christmas—or whenever you're in need of some time for reflection. You can download the retreat as a PDF file at no cost. With readings and artwork, the retreat is designed to help you engage questions about where you are in your journey, how you want to travel through this year, what distinctive gift you might offer, and what you need to receive in order to do this.
The retreat is very flexible, easily adaptable to your own purposes. You can devote a day to it, or you can spread it out over several days. You can do the retreat with friends, perhaps selecting a single reflection or two as a starting point for conversation over tea or a meal as you celebrate the day. The retreat includes an introduction with some thoughts about how you might engage these reflections.
You can download the retreat as a PDF by clicking the link below. There's no cost; think of it as my Women's Christmas gift to you! You are welcome to make copies of the retreat to share with friends.
Click here to download the Women's Christmas Retreat
I've also written a blessing for Women's Christmas. As we move through the day and into the year ahead, may you journey well and walk with wisdom.
I Know How Far
A Blessing for Women's Christmas
I know how far
you would walk
to offer what
is needed;
the lengths
you would go to
to provide for those
you hold dear.
I know how every road
you travel
begins in the hollow
of your chest,
in the chambers
of your heart;
how you measure
your steps
by the rhythm
of your pulse;
how you find
your way
across terrains
no map
could ever show.
No distance
no barrier
no expanse of time
would keep you
from propelling yourself
toward the place where
your heart has already
arrived.
But for a moment,
for one small space
of time,
could you pause
and in the quiet
wait
for the gifts
that have been gathering
around you,
the treasures borne
by those
who have been traveling
to welcome you
since the moment
you left home?
For another reflection on Epiphany, visit this post at my blog The Painted Prayerbook: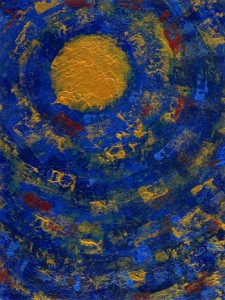 Epiphany: Blessing for Those Who Have Far to Travel
[The Wise Women Also Came image is © Jan L. Richardson from the book Night Visions: Searching the Shadows of Advent and Christmas.]