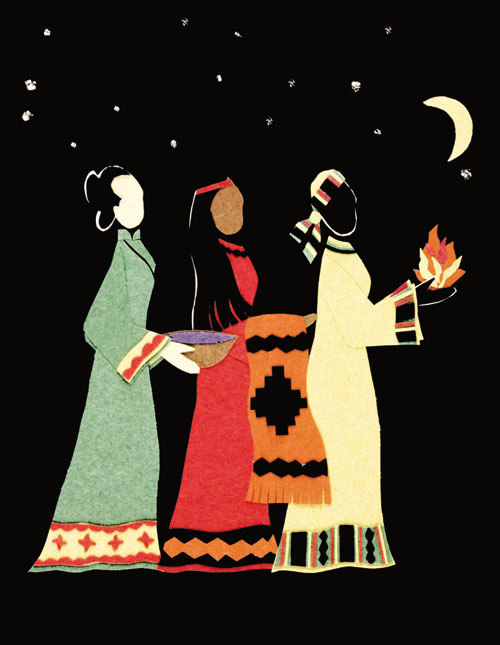 Image: Wise Women Also Came © Jan Richardson
Friends, it is the time of year when I get to wish you a Merry Women's Christmas and share a gift that I've created for you in celebration of the day!
You might already know that in some parts of the world, Epiphany (January 6, which brings the Christmas season to a close) is also celebrated as Women's Christmas. Originating in Ireland, where it is known as Nollaig na mBan, Women's Christmas began as a day when the women, who often carried the domestic responsibilities all year, took Epiphany as an occasion to enjoy a bit of respite and celebrate together at the end of the holidays.
Whether your domestic duties are many or few, Women's Christmas is a good time to pause and take a break from whatever has kept you busy in the past weeks or months. As the Christmas season ends, this is an occasion both to celebrate with friends and also to spend time in reflection before diving into the responsibilities of this new year.
It has become a tradition for me to create a retreat that you can use for Women's Christmas—or any time you're in need of a space of respite and regathering. This year's retreat is titled "The Path We Make by Dreaming." As I continue to find my way in the wake of my husband's death, I have been giving a lot of thought to how dreaming happens in my life. I'm talking about dreaming in its broadest sense: the dreams that come by night, the dreams that come by day, the imagining and envisioning we engage in as we work to find and create our path. This year's retreat offers an invitation for you to reflect on how dreaming happens in your own life, in both the darkness and the day.
The retreat is very flexible, easily adaptable to your own purposes. You can do the retreat anytime you wish, by yourself or with friends near or far. It includes an introduction with some thoughts about how you might use these reflections.
Clicking the link below will take you to a page on this Sanctuary of Women site where you can download the retreat as a PDF file. There is no cost; this is my Women's Christmas gift to you! If you wish, you can make a donation in support of the retreat; contributions will be shared with the A21 Campaign (a21.org), which is devoted to ending human trafficking and providing sanctuary, healing, and hope for those rescued from slavery.
(If you don't see the 2018 retreat when you click the link, just refresh your browser so that you're seeing the most recent version of the Women's Christmas page, and the new retreat should appear.)
You are welcome to make copies of the retreat to share with friends. I would be delighted for you to offer this gift to others by sharing this blog post; you can use any of the social media icons at the bottom of this post or simply forward the link to others.
This year's retreat opens with a new blessing I've written for you, which you can find below. As we celebrate the day and enter into the year ahead, I pray that you will find wondrous dreams to live into. Merry Women's Christmas!
The Map Our Dreaming Makes
A Blessing for Women's Christmas
I cannot tell you
how far I have come
to give this blessing
to you.
No map
for the distance crossed,
no measure
for the terrain behind,
no calendar
for marking
the passage of time
while I traveled a road
I knew not.
For now, let us say
I had to come by
a different star
than the one
I first followed,
had to navigate by
another dream
than the one
I loved the most.
But I tell you
that even here,
the hope
that each star belongs
to a light
more ancient still,
and each dream
part of the way
that lies beneath
this way,
and each day
drawing us closer
to the day
when every path
will converge
and we will see the map
our dreaming made,
luminous in every line
that finally led us
home.
—Jan Richardson
[The image Wise Women Also Came is © Jan Richardson from Night Visions. To use this image or order an art print, please visit this page at Jan Richardson Images.]